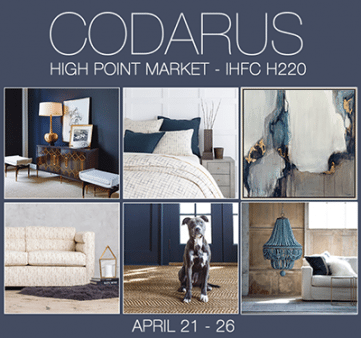 We're excited for another inspiring High Point Market, April 21-26. Experience the latest from our fabulous product partners including NEW line, Handley Drive. Be sure to put CODARUS, IHFC Building, 2nd Floor, H220, on your market plan. Plus, enjoy our product partners around campus: AVE Home (IHFC, Interhall – IH304), Soicher Marin (326 N. Hamilton Street), and Regina Andrew Design (IHFC, Interhall, IH006).
MARK YOUR CALENDARS FOR SOME FUN EVENTS!
Friday, April 21, 4PM – 6PM
Soicher Marin Showroom Grand Opening Party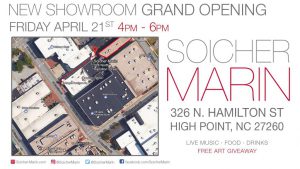 Sunday, April 23, 3PM – 5PM
Book signing & Bites with Design Blogger and Acclaimed Southern Author Kristy Woodson Harvey.