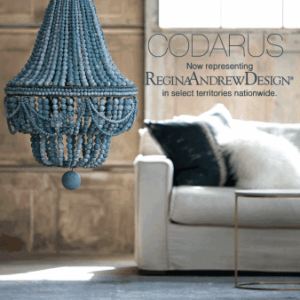 We're excited to announce that we are now representing the fabulous Regina Andrew Design in the following Territories: 
Arizona, Arkansas, California, Idaho, Kansas, Louisiana, Maryland, Mississippi, Montana, Nebraska, Nevada, New Mexico, Oklahoma, Oregon, Texas, Virginia, Washington, Wyoming, Washington, D.C.
Lighting, home accessories, furniture, and more, Regina Andrew is passionate about creating beautiful, well-crafted product. Whether you prefer modern glamour, vintage classics, or a bold approach, Regina Andrew Design has just the piece you're looking for.
Plus, for those passionate about the environment, Regina Andrew continues to repurpose recycled and reclaimed materials into objects of beauty. In 2017, Regina Andrew Design received the Green Manufacturer Award from the Accessories Resource Team.