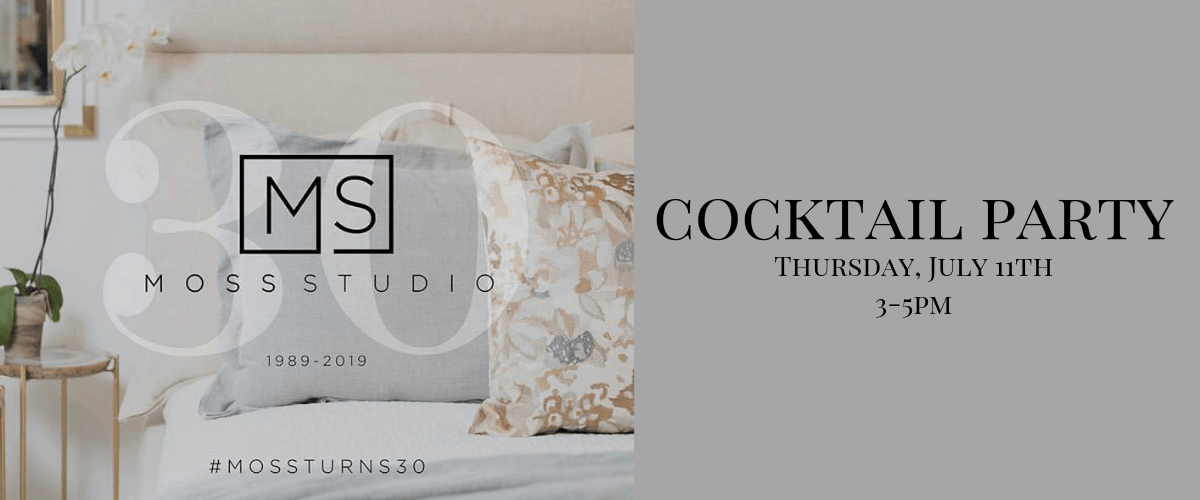 Moss Studio Cocktail Party


Thursday July 11, 2019




3:00 pm - 5:00 pm
Migrating from Armenia after the fall of the Soviet Union and settling in Burbank, CA, Mike " Moss" Moushegyan and his wife Elizabeth started Moss Studio in their living room in 1989.
Known as the "Wall Upholstery King" by the Los Angeles community, the company focused mainly on wall draperies and custom upholstered furniture. After amassing popularity after a few short months, Moss Studio was showcased at Los Angeles' downtown convention center in 1990, and the line has been showing ever since – not only sustaining success, but growing with every show and every season.
Today Moss Studio is lead by husband and wife team John and Naz Sinanian, Daughter and Son in Law to Mike and Elizabeth. John and Naz have spent the last couple of years rebranding the company's style and creating a line for the entire home. In the past 2 years, Moss Studio has launched their first textiles collection, bedding collection and started a Quick Ship Program with their most popular pieces. Their mission is to design the finest and sublime pieces of furnishings, including bedding, accessories, case goods, and upholstery.
John and Naz say, "We want to thank our community for 30 years of business. We are honored and privileged to work with such amazing people all over the country. Our talented upholstery artisans and sewers deliver amazing pieces. Our accounts and sales force inspire us to be the best we can be. We have grown so much over the past 30 years and we are not done yet. We can't wait to keep growing and thriving #likeamoss!"
Moss Studio is proud to have the brand represented by CODARUS for the past 8 years. "It has been a great thing representing Moss Studio, watching Moss Studio grow and evolve into the brand it is today", said Cody Ables, CEO of CODARUS. "John and Naz immerse themselves in the brand daily. It's their baby and it shows".
Please join John and Naz to celebrate 30 years of thriving in this ever-changing industry. Festivities are scheduled for Thursday July 11th 2019 from 3-5 pm in the CODARUS Atlanta Showroom, Bldg 1-15-A-1